ABOUT PROCEDURE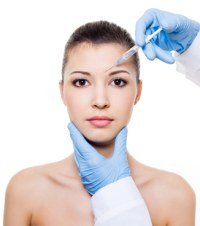 Botulotoxine type A
Using botulotoxin applied in small doses in skin, the activity of mimic muscles is reduced, the skin is smoothened and mimic wrinkles disappear.
Standard application:
forehead wrinkles (while raising eyebrows – surprise mimics)
wrinkles between nose and eyebrows (while knitting eyebrows – scowling mimics)
wrinkles around eyes (while smiling)
News in application for face and neck (Paris – May 2006 and January 2007):
nose wrinkles (ridge of the nose)
bottom eye lids wrinkles (wrinkles appearing while smiling)
chin wrinkles (appearing while wrinkling chin)
upper and bottom lip wrinkles (while pouting)
upper lip extension
neck wrinkles (vertical and horizontal – injection applied to platysma)
Sweating elimination by botulotoxine:
Application of injections to armpit – must be repeated 2-3x per year.
NEED MORE INFORMATION? ASK US!